Majin Bone (マジンボーン, majin bōn), is a card game released in Japan. But with it, spawned an Anime and Manga adaption. The manga series is currently ongoing. Written by Naoya Sugita, and published by Shueisha in Saikyo Jump, the first manga chapter was release on January 4th, 2014.
The first tankobon volume was released on July 4th, 2014. And the second tankobon was schedule for release in November 2014. However, the second volume has been delayed for unknown reasons and it was rescheduled for release in May 6th, 2015..
List of Chapters
Edit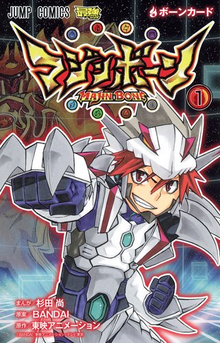 List of Chapters yet in tankobon format
Edit
(none at the moment)
Upcoming News
Edit
The manga is due to end in April 2015 in May issue of Saikyo Jump.